James Anthony Ellis
Legacy Editor
The Southwest Legacy Discovery promotion flyer asks: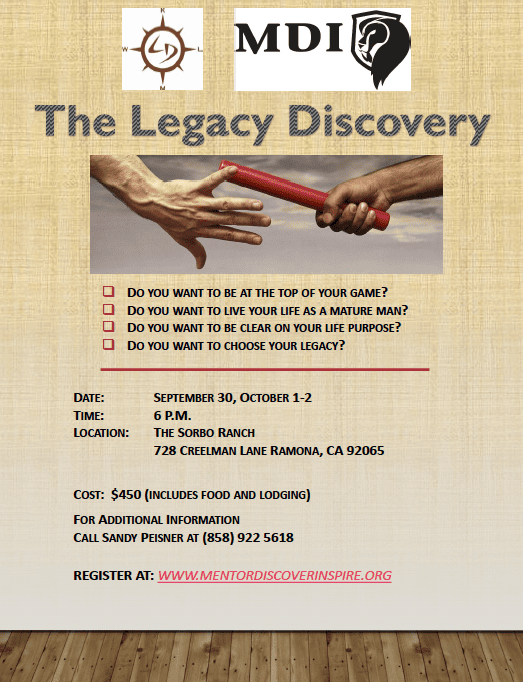 Do you want to be at the top of your game?
Do you want to live your life as a mature man?
Do you want to be clear on your life purpose?
Do you want to choose your legacy?
As the promoters and proponents of the event promise, those who answer "yes" to these questions can get all of that and more at their Legacy Discovery.
The Legacy Discovery, or the "LD" for short, has been MDI's signature event since 2001, a year after MDI was officially founded. With two LD's on the calendar at present, the event creates a space where men can "discover a life-changing weekend designed to connect you with your masculine identity, life purpose and personal power to create a legacy you've always wanted."
The purpose statement of the Legacy Discovery: To connect YOU to YOUR masculine identity through the wisdom of Men, and with that power put your Legacy into action.
And what can such a high purpose lead to? According to Ed Harrigan, Vice President of Legacy Discovery, the goal of fine-tuning all these events will be to continue to raise the level of the LD where content and production make it a highly noted signature level event all MDI men would want to use as an enrollment tool. WIth the oversight of the event being aligned across the board, anyone who takes the event can say they have a "shared experience," which will help bond all participants.
"I love the LD," Harrigan said. "It's a really powerful event that gives men the focus, clarity and ability to grow, offering men the opportunity to lead and be lead. Not only can it be a life-changing event for the men; it can be a life-changing experience for those facilitating."
One of the bigger successes for the LD came out of the Southeast Region, wherein an 18-man LD in October 2021 spawned a point team that helped enroll enough men to warrant another LD with 24 men only seven months later in May 2022. With a timeline that became three months to produce the May event, one may wonder how the men were able to pull that off. Said Kevin Mannthey, Regional Coordinator of the Southeast Region, "We put the right men into positions and we let them run with it." According to the RC, the region is already in the planning phases of another event, possibly in November, with the hopes of collaborating with other regions across North America for various LDs.
"The energy level in our region really jumped a lot," Mannthey said. "My team smoked the enrollment completion we created. We had one man enroll six men on his own. And we heard of one participant who said after doing the event, he changed the way he talked with his wife. We can't ask for anything more. Sending a man to an event that changes his life shows we are doing something worthwhile."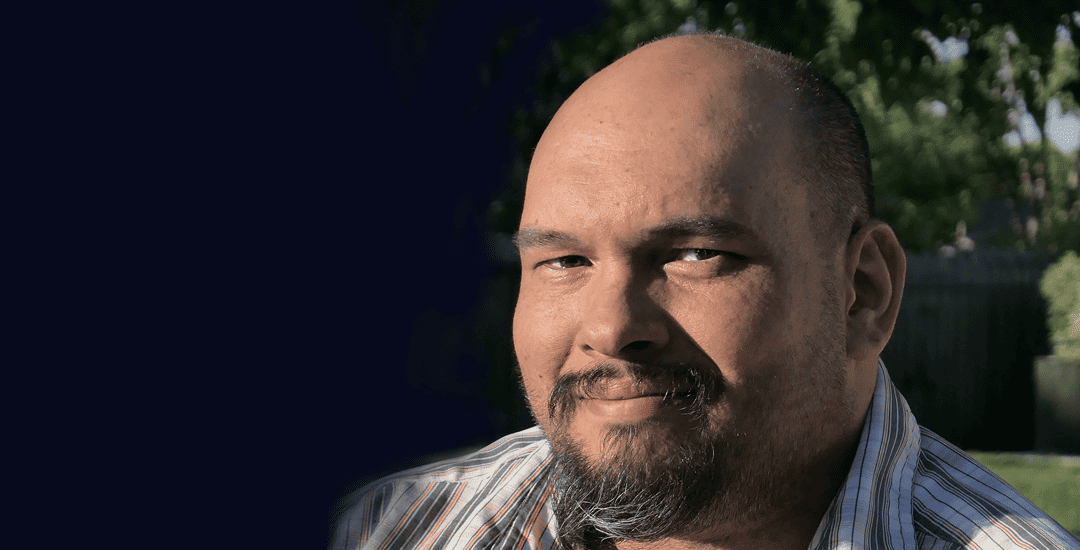 "I have to say the ability to leave all my baggage behind and finding my purpose was priceless." Legacy Discovery participant Francisco Fernandes – MORE HERE
According to Bill Oakes, RC and LD Leader in the Southwest Region, the men who participate will see a path towards being a mature masculine man, through learning about traditional masculine archetypes they can emulate. Said Oakes, "They may get some spot-weld moments about having better relationships with women. They will get to see themselves as other men see them, through spending a weekend together. They will have an opportunity to free their minds from the past by forgiving others. They will have a hell of a lot of fun. And, they will see their legacy and perhaps discover a new one."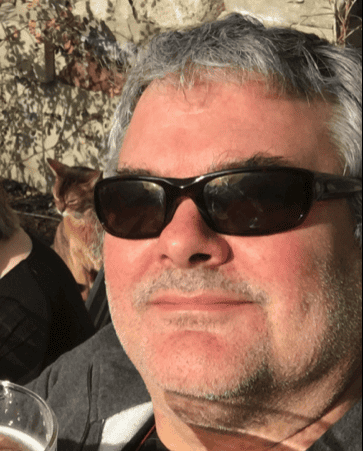 The History of the Legacy Discovery, as told by a man who was there HERE!
Oakes came out of his LD in 2007 with increased confidence, which he said enabled him to represent himself with enthusiasm when interviewing successfully for a new job. And he likes to emphasize that every man will receive something individual from a Legacy Discovery. "If you are thinking about doing one, talk to several men to find out what they got, knowing that you will get some of those things, plus something different. When men bring their A-game, they can achieve great benefits."
And why does Oakes personally want to make the LD available to other men?
"It's part of my legacy to create a space where men get the benefits I have described. There is not enough mature masculinity out there. Our communities need men who show up strong. Too many men are off-track, expressing what we call a 'Shadow Archetype' behavior, which shows up as violence, misogyny, lying, and bullying. Being on a men's team helps a lot. The LD can make an even bigger difference for men showing up to do the jobs that need to be done for our families, careers, and communities."
Legacy Discovery – The Why's
Why Legacy Discovery?
Legacy Discovery is a powerful journey that celebrates the strength, wisdom, insight, and purpose you carry through this world as a man. It is an exploration of the collective wisdom of men that includes your own unique and valuable wisdom. It is a voyage that leads you to a deep understanding of the man you are today, and awakens the power within you to create the man your legacy demands.
Delivery: In-Person Weekends across North America
Schedule: The Legacy Discovery Experience is conducted on a Friday , Saturday and Sunday – typically starts Friday 7 p.m. and ends Sunday afternoon.
Fees: $399 – $599 Fees vary based on location & currency.
Food: You will be fed like a king.
Breaks: There are plenty of breaks throughout the weekend.
Lodging: The Legacy Discovery Experience is an 'on-site' experience. We provide lodging for you throughout the weekend, do not plan on going home during the evenings, the nights are part of the Legacy Discovery Experience.
What You'll Walk Away With From This Experience
A powerful way of being based on mature masculinity.
How to deepen your connection with men.
How wisdom from a circle of men can bring you more success.
A life purpose that will make a difference.
What you are truly committed to in life.
Your true relationship to money and how that affects your life.
How to communicate more effectively and powerfully.
How to create more trusting relationships.
The real relationship you have with your father.
The role that sex and intimacy play in your life.
How to face yourself, as you truly are and embrace responsibility for your actions.
How excellence as a way of being, can replace the fear of perfection.
The Events That Are On The Books
Regions in the Toronto and Atlanta area are looking to schedule a Legacy Discovery before the end of 2022.
Western Region
Mendocino, CA
October 21 – 23, 2022
$500 ($450 for MDI Members)
Location: Mendocino Woodlands Camp Mendocino, CA. 95460
LD Registration Manager, contact Olaf Krop at legacydiscovery@yahoo.com or call at (415) 297-5767
Southwest Region
San Diego, CA
September 30 – October 2
Time: 6 P.M.
Location: The Sorbo Ranch 728 Creelman Lane, Ramona, CA 92065
Cost: $450 (includes food and lodging)
For Additional Information call Sandy Peisner at (858) 922 5618.
REGISTER AT: www.LegacyDiscovery.org