Shout out to you lone wolves out there, the MDI Technology team is introducing an MDI App for your phone and mobile device. This is a collaboration tool to support MDI men's teams to work together.
In the near future, you will receive an email invitation to download and install the MDI App, which is free. By logging in, you will automatically connect with your men's team based on your roster information. How cool is that?
Technophiles out there will recognize this app is built on the Bitrix 24 platform, which is extension to the MDI Connect tools.
Functions include personal and team chats, collaboration tools, team calendars, private document sharing, and access to MDI membership and information. Tasks and projects can be erected, managed and tracked with calendar, alerts and checklists, for when you're up to building something.
This requires action on your part. In fact, your participation in this is an imperative. Men can't connect organization-wide unless we all start using it.
The timing for this roll-out is mid-March which is – hey just a couple weeks away.
Now you won't need to use Zoom, make a phone call, or leave the comfort of your cave to connect with the men. Just pull out your phone, and when you get the email invitation, download the app and log in.
A short video of the MDI App is available here
The introductory email will look like this: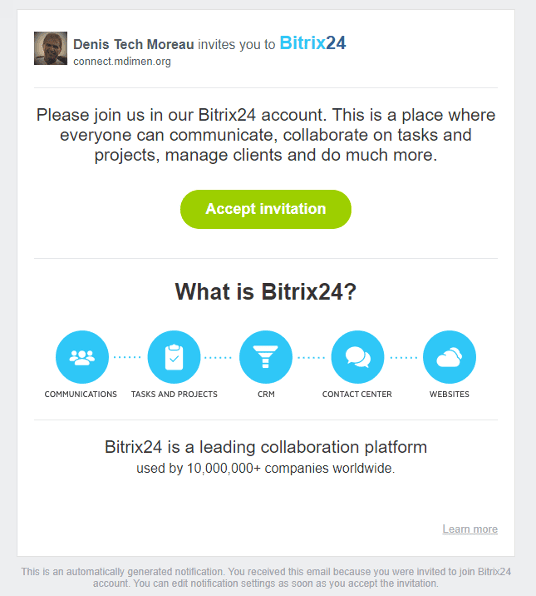 Once you accept the invitation, you can start using the MDI App.
For those in a relationship, you might also be interested in this, from our April Fool's archive.