Doug Samuel
Atlas, Team "Ottawa Team"
When I first joined Atlas, it was a temporary thing.
I'd previously been on a face-to-face team. But at the start of the pandemic when I moved from Toronto, which has a vibrant division called Abnaki, to Ottawa, which has none, I needed to find a new way of being on a men's team. To me, that meant creating one. In the meantime I needed a team, so after my original team, Midnight Sons, went from Zoom back to meeting outside (I'm so jealous), I joined an Atlas team to fill the void until I got my Ottawa team got off the ground.
What I discovered was far more than I expected. I owe Atlas a lot.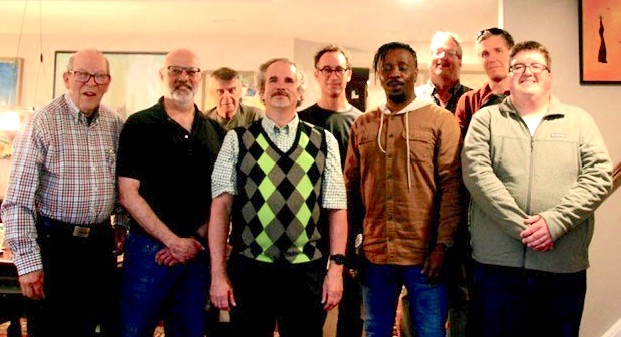 My new team, Screwed In, was very different from my previous team: Zoom only, most of the men had not met each other in person (with a couple of exceptions), only 90 minutes in length instead of three hours, a totally different template for how a meeting is run, and what constitutes a typical meeting. This was not better or worse, just different, and in that difference was the richness.
I connected with new men, widening my circle, learned new ways of being in a men's circle and different approaches to running a meeting. I was very satisfied with this team and had no idea that an Atlas team could be so great. If I hadn't already committed to starting a face-to-face team, I'd have stopped there. I had all I needed.
But I didn't stop there.
I continued to build my Ottawa team, and Atlas really stepped up. Not only did they fully support the idea; they let me put a bunch of new men from Ottawa onto different Atlas teams, knowing I would yank them away again when the moment came to launch the new in-person Ottawa team.
This is very generous. No one wants to build a team knowing they will lose some of the men with whom they have bonded. No one wants to lose the fabric of their team. But the division and the captains running the other teams believed in what they were about. Atlas is a division that creates new teams and, if possible, new on-the-ground teams. Receiving men new to MDI on a new team without some MDI experience would have been more than challenging.
As luck would have it, a couple of the men had been on face-to-face teams. The rest came off Atlas teams so they had some idea of how an MDI team functions. Meanwhile, this single team in a city far from other terrestrial divisions has a divisional home until we grow into our own Atlas "tribe." This makes all the difference to the success of our team.
The Ottawa team is off to a great start (despite not yet having a real name), meanwhile I am still in connection with the men in Atlas on a weekly basis and have formed closer relationships with specific men on my previous Zoom team.
Atlas has expanded my world in so many ways and supported my growth as a man in special ways that wouldn't happen in quite the same way on a face-to-face team in a face-to-face division.
There is no one right way. And having the chance to experience different "right" ways to be on a men's team is immensely valuable and quite frankly convenient, which is no small thing.