James Anthony Ellis
Legacy Magazine Editor
Together they gathered, praying over John. It was 2005, at a time when all this 30-year-old man was looking for was some relief related to his health concerns. But at this special conference, he would get more. Four separate people, deep in prayer, relayed the same vision: John McEwen would have the opportunity to embrace a higher mission working with children in Africa.
At the time, McEwen was confused. It seemed so random. How would that come to be, given his upbringing and his present mindset holding some negative views of a continent he couldn't comprehend?
Even so, today, 17 years later, "Uncle John" as he is known, is living his higher purpose in Africa educating, cooking, and caring for a family, with visions of building a self-sustaining farm that can serve communities into future generations.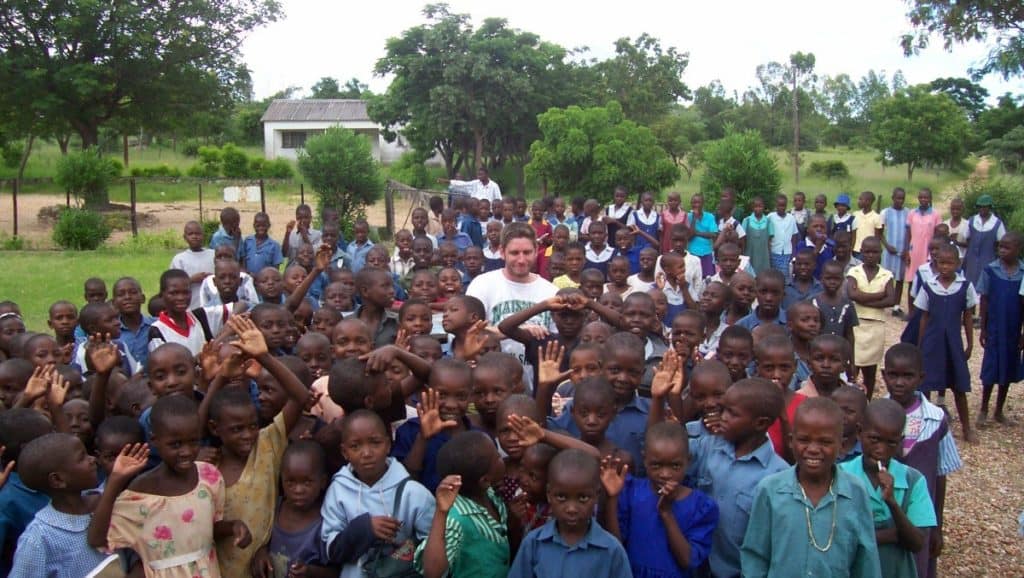 For McEwen, realizing this vision took commitment, perseverance, sacrifice and the support of friends and an MDI men's team.
According to teammate Greg Kay, the Waterloo-based TITANS men's team has supported the Brantford resident in various ways: mentorship, camaraderie, visioning, planning, help with moving, securing belongings into storage, accommodation for two months, and the indescribable support that comes when men believe in a man and his mission.
Said Kay, "John is a visionary. I've moved from being a coach to being an observant mentor, allowing John to flex his muscles and grow in new ways."
And McEwen has followed through. "With the help from those men, what I am building is going to be life-changing for hundreds of kids and their families in Africa," McEwen said. "I am following my inspiration. You must live for something … or die for nothing."
Kay has personally helped mentor McEwen around his vision and purpose, as well as the necessary technology to broadcast his message. This includes a GoFundMe page, the donations from which will support McEwen to return to Ontario in order to gather more momentum for future excursions that fulfill a long-term mission. (GoFundMe details found at the end of this article).
So how did this come to be? Though McEwen said he does this work "because I can," there is more to the story.
HISTORY
While in his 20s, after receiving counseling at a sobriety centre for six months, McEwen then partnered and helped counsel troubled youth. In 2010, at the age of 33, five years after that initial prayer circle, he heard about an opportunity for a pilgrimage to Masvingo, Zimbabwe, putting a team together to sponsor a school there. "It had already been on my heart for a few years, so I said 'yes.'"
His first trip to Africa lasted a month, "living in huts, eating crickets and bugs." At present, the purposeful traveler has made seven trips to Africa, the first six to Zimbabwe, and the most recent to Lusaka, Zambia in March 2022. He will be returning to Ontario, Canada by the end of June 2022.
Though doing the work he loved, the years have been full of challenge.
In 2017 came the skin cancer diagnosis.
In 2021, he was in and out of hospitals seeing specialists concerning the cancer. That same year, he separated from his wife and started battling both skin and kidney cancer.
In November 2021, he came upon a Facebook ad for a men's team. This would be the page for Mentor, Discover, Inspire (or MDI), an international not-for-profit, nondenominational men's organization. After speaking with MDI man Tom Olien a half dozen times, he found the TITANS team. When in Africa, he participates in remote meetings on Mondays … his time: 1:30 to 4 a.m. 
TITANS teammate Phillip Bridges initially saw a man "broken and obviously overwhelmed" by an embattled relationship and poor health. "He was struggling in all areas of his life. Despite that, it was apparent that within him, there was a determination and mission at work which compelled him to find a solution."
Said Bridges, "We listened to him, and rather than try to fix this man, we looked at where he was disempowered in his life and gave him some new tools with which to take on the world. What we saw was nothing short of a transformation."
THE MISSION
Through his trips, McEwen has become "Uncle John" for hundreds of people, as he helps with food preparation, gardening, and teaching life skills. He has brought with him donations of shoes, books, pencils, soccer jerseys, balls and art supplies. He's purchased barb wire for a fencing project at a local school.
McEwen currently is supporting four children, all from different families, living together, with the aim "to help in any way that I can to give them a better life." The youngest at 5, Ester, has sadly lost both of her parents.
McEwen said, "Children are our most precious gifts, and in third-world countries, they struggle to survive in many areas. Too many have no parents due to violence or abandonment and are often left to fend for themselves. Many more don't survive due to a lack of food, water and health care."
Christine, the mother of two boys being mentored by McEwen, said, "I am so happy with Uncle John and how he is taking care of my two children, teaching them some good skills."
Said teammate Kay, "It's been inspiring. He is building an exciting legacy in Africa, one step at a time. Since he left to go to Africa, I've been able to see his world through WhatsApp video chat almost daily, and it's been cool to meet and befriend the kids he is staying with."
THE LONGER VISION
McEwen is building on the vision. Presently, he is growing a massive vegetable garden to help feed his host family as well as other families and local schools. He is working with a local farmer to lease acreage on which to raise livestock (He's already invested in 500 chickens) and create a small chicken farm, which can double as lodging for visitors from Canada and the United States looking for a safari tour. The long-term vision includes building a no-cost school, as well as opening a chain of Uncle John's Chicken Hut restaurants.
Said McEwen, "The higher purpose is to leave this world in a better place, helping these people to be able to sustain themselves. What I create in Africa remains there as a sustainable foundation for ongoing needs within communities, families and schools."
McEwen said through the support and guidance of the men of MDI and his TITANS, he challenged himself, found inner strength and expanding his goals. "They drilled into me so I would not hold back and could open up to first make my health a top priority and then second truly go fulfill my purpose."
Bridges has been inspired by McEwen's capability to touch so many lives in his journey, building a better future for others and better health for himself. "With the support of the men, John found within himself the strength that had been eluding him to take charge of his own life, and be better. Seeing and hearing what is going on for him is literally proof that we make a difference in the lives of the men in our circle. Better men, better families, better communities."
Everything that has transpired – for the TITANS and for John and for these children and families in Africa? Perhaps it has been an answer to a prayer.
DONATIONS
John McEwan's GoFundMe page is intended to support him upon his return home to Ontario in June, funding transportation, lodging, health care and basic living expenses. As the sole provider for financing the needs in Africa, he says, "It would mean the world to me, and so many deserving children if you would contribute to this journey of hope, abundance and love." McEwan will continually update his GoFundMe page with pictures, stories, progress on his vision, and how funds are implemented on the other side of the world. He is also available on WhatsApp as "Uncle John."