Michael Fowlkes
MDI Contributor
I could not pick one favorite sports memory. I must create a Top Five Memories.
OK, six.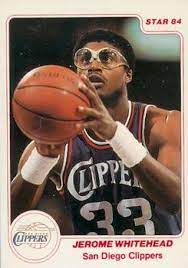 So, back in the day, I went to the University of San Diego from 1979 to 1983, period. And during that time, the Clippers were still in San Diego. And they used to practice at USD. So a lot of times on Saturdays, we got a lot of college players and ex-pros who come out to play pick games at the USD gym. My freshman year, the Clippers drafted Jerome Whitehead in the first round NBA draft. That previous year, Marquette had won the NCAA Men's Basketball Championship. Whitehead was their star player.
So one day in the afternoon, we played a pickup game with Whitehead. It was four-on-four full court. On my team was Joe Evans, the center for the USD basketball team. He was 6-9 and our star guards. Whitehead was 6-9, 250 pounds and cut. He was a physical specimen. He had a chest as big as the backboard.
During this game Whitehead was guarding Evans, who was coming down the court dribbling through his legs and hitting shots from just past half-court and at the hash marks. He was showing up Whitehead who was starting to get irritated. So he gets the ball at one point at the top of the key, with Evans playing really loose defense.
Whitehead drove down the key and went up for a Tomahawk dunk. Our star guard and I were down defending the basket. Now, the two of us probably weigh 170 dripping wet. We both look Whitehead coming down the key. We start to put our hands up to go up to block the shot. And we thought better of it. We just got out of the key. Whitehead slammed that ball so hard with a two hand gorilla dunk that when the ball hit the ground, it bounced up into the rafters and actually hit the ceiling. And for about the next 10 times down the court, the backboard that he slammed on was still rocking from side to side.
It was one of the nastiest dunks I'd ever seen.
NUMBER 2
Watch Out For That Tree
Also during those USD days, when ex-pros would come to practice at our college gym, I had another encounter with basketball legends.
It was also during the time that Bill Walton was playing for the Clippers after he got traded from Portland. So, one day we're playing a pickup game on Saturday and also playing was George Mikan, an old Laker Legend. Also there was Greg Lee, who was the point guard for UCLA during the time that Bill Walton was there and they won all those NCAA Basketball championships.
In our pickup game, George Mikan got the ball at the top of the key and turned and drove down the middle of the key for a lay-up. This guy on the other team decides to take a charge. Mikan never stopped. He just ran the guy over. The guy was standing just in front of the basket and when Mikan made contact with him. he hit him so hard that the guy fell and slid into the bleachers. And so Johnny Lee comes over to this guy who was lying flat on his back, stands over him and says, "You know, funny thing about those big guys. They don't have good brakes."
I have to say that was one of the funniest things I've ever heard.
NUMBER 3
Females Leading the Way
When I was in college, we had an inner co-ed intramural football league. I created a team called Creme de La Creme. Basically, I recruited girls who had brothers who played football, and would play with them as kids. And so, our first year, we actually won the championship. We actually had girls that were bummed that they couldn't tackle the girls.
Basically, my strategy was, if there was a team that we played, where there was a really good female player who gave us problems, then I recruited them for the next year. Back then, if you won the championship, you got a t-shirt. So that was my enrollment tactic: "do you want to win a t-shirt?"
The cool thing about our team was we had females who could catch the ball. So it made life really easy. I remember once I was playing quarterback, We ran a post play to one female and I was going to hit the short post but the female who was running the flag called for the ball. So I hit it. I hit her with it for about a 25-yard gain. And the first down.
My guy teammates would often say, "Hey, where did you get these girls from?" Typically, I would recruit the team and then practice the gals two weeks before the season started.
Needless to say, I didn't know this was going to be the beginning of a dynasty. We went on to win five years in a row undefeated. In our last year, there was an article in the school paper about our team. That last season we had outscored our opponents 197 to 33. It was quite the accomplishment. We were a dynasty team.
NUMBER 4:
The Tale of Two Halves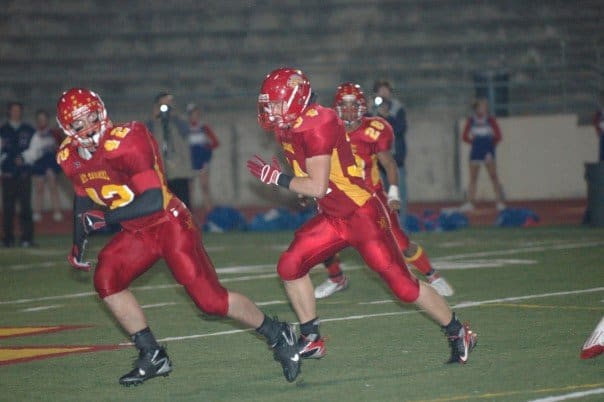 In my stepson's senior year, he played football for Mount Carmel High School. He was a DB.  I was the photographer that year for the football team. So I got to be on the sidelines. And they played their archrival Poway High School. This was a big game. It was actually their homecoming. So Poway was really good. That year Mount Carmel was having a mediocre year. In the first half, Mount Carmel was down 21 – 0, and the sports television station covering the game left at half time. 
It was the tale of two halves. What they missed was Mount Carmel all of a sudden mounting a comeback in the second half. On the opening kickoff, Mount Carmel recovered a fumble. They drove down the field and scored. Then Mount Carmel stopped Poway again and droves the ball down the field for a touchdown. Needless to say., Mount Carmel had this incredible comeback and ended up winning the game with about 20 seconds to spare.
It was one of the most exhilarating comebacks I've ever seen. Especially for a team that was an underdog and wasn't expected to win the game.
And it was so cool because I got to share that with my with stepson.
NUMBER 5:
6'3″ Dunking on 6'10"
My oldest stepson played basketball for Mount Carmel in his senior year. They played Vista High School in an away game. They had a guy who was a 6'10" center with a D1 scholarship to Creighton. In the first quarter of the game, my son got the ball at the top of the key. He wrestled it away from the defender and turned around, with the key wide open. There's no one there. So he drove down the middle. He went up for a dunk and all of a sudden he sees this 6'10" kid come across the key to block his shot. He throws down the ball as fast as he can, and he ends up dunking on this 6'10" player. You should have heard the crowd when my son dunked on this kid. The place just went crazy.
Now, my son at the time was 6'3". So he was a little guy compared to this big 6'10", kid. I swear to God, this would have been a highlight on ESPN. It looked like a pro level dunk. This woke up this 6'10" kid, because after that he was dunking and blocking shots. He must have had 20 points after that.
It was so funny because my son said that every time they called a timeout, everybody on his team would say nice dunk. And I remember seeing him on the free-throw line next to the center who just towered over my son.
My son also said at one point in the fourth quarter while they were lined up at the free-throw line together, the 6'10" kid leaned over and said, "Nice dunk." It was one of the coolest things I've ever seen. I was so proud of him.
NUMBER 6:
A Below Par Experience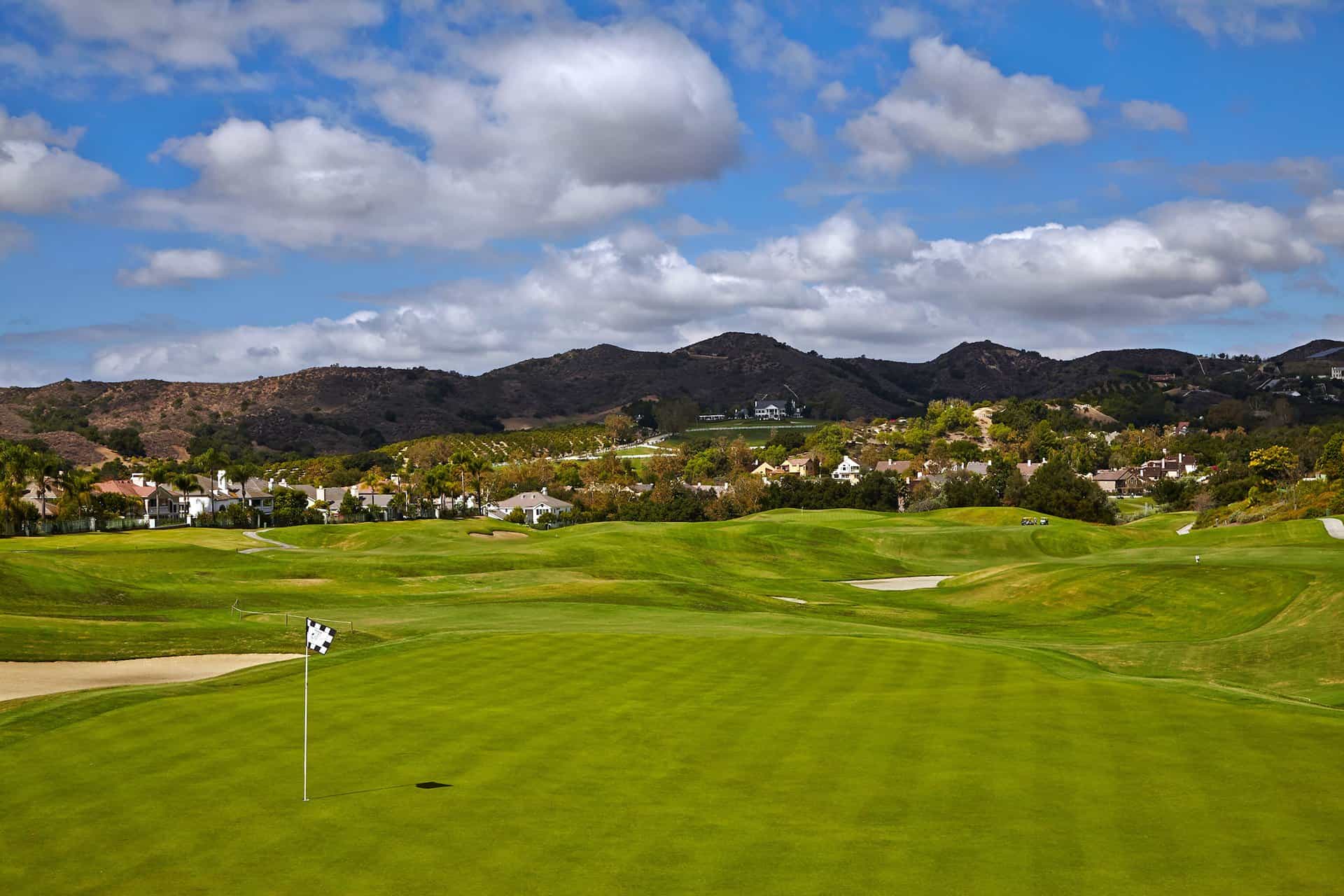 I was playing golf with a friend of mine at Coto De Caza and we were playing skins or "low score wins the hole." Evan Knapp, who used to be the DC for Sea Warrior Men's Division in the Southwest Region, was playing with one of his friends and I was paired with his stepfather.
So, we're playing along, we're even, and we get to this par 5 and Evan and his friend get on the green In two shots. Basically, they have an eagle putt that's about 10 feet above the hole. Now, the interesting thing about this hole is it is probably 4,000 square feet, and it slopes down hill. Evan's stepdad is is off the green in the rough on the other side of the green from me. I'm barely on the green on the left edge probably about 85 feet from the hole. As we are walking on the green I tell my partner, "I tell you what, all we got to do is birdie this putt; it will fuck them up, they'll miss the eagle putt, hit the birdie, and we'll be square. That's all we got to do."
Now, he is looking at me like I'm crazy because neither one of us is even close to this hole, and I admit this didn't seem very likely. So I get up there, pick a line to the hole. I putt it across the top of the green and dropped it into the hole. I was so pumped. Evan and his friend were stunned. Evan's stepdad was looking at like he witnessed a miracle.
Of course, that fucked up Evan and his friend, which was my plan. They missed the eagle putt going downhill, and eventually hit the birdie putt going back up the hole.
To this day, every time I see Evan, he tells me his stepdad always asks, "How's Michael doing?"