Tom McCarter, MDI Contributor
I can tell I have been resisting this. What am I doing to follow my father's legacy? How am I honoring my father's legacy? I think that's the assignment. This will be a tall order, because – well, let me tell you about my dad.
He flew a P-51 in WWII in the Pacific Theater. When he got back from the war, he and some buddies teamed up to be the first to summit Mt. Vancouver, the 15th highest mountain in North America. And they did it.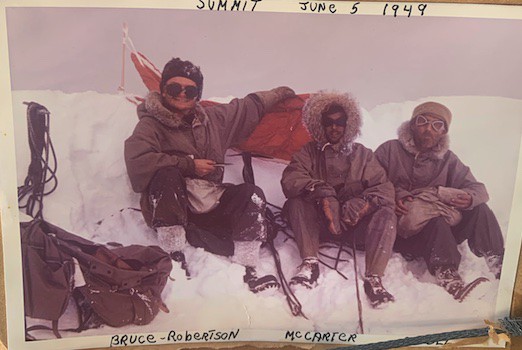 He got the GI Bill, so he went to Harvard for his BA & Stanford for his MBA.
He met my mother while there and they got married. He was able to purchase a house right out of school in a little town called Orinda. People lived there when they couldn't afford to live in Oakland. My dad got a job with a national insurance company, but back then, MBAs didn't just walk into middle management. They started at the bottom and worked their way up.
My dad's first job was measuring buildings so they could be assessed for their value. He made $250 a month. But he could still leave my mom at home with her son from her first husband who was killed in the war. My dad worked his way up, though, and eventually he found himself in upper management. Then the president of a private mortgage banking firm offered my dad the vice president position. He took it.
My father went on to become president of the California Mortgage Bankers Association. He played golf. He went hunting and fishing with the men. He liked sports but wasn't passionate about teams.
He did his best to introduce all these things to me, but I wasn't interested. We kind of drifted apart. I got into drugs and alternative lifestyles, joining a commune and working in a collective after college. It wasn't until I did the Sterling Men's Weekend and invited him to participate in a big war game with the men when I was 43 that we bonded.
At the time I thought how I could follow up his incredible legacy. Hard to fathom. But it got me thinking:
I became an upright citizen, got a career, bought a house, and got married. I've been true to my wife. We'll celebrate 16 years this month and we are still in love
Once I started my career, I went out of my way to give my clients more than they asked for. Because people were counting on me, I showed up even when it was inconvenient or I had suffered an injury.
I have been a contributor to my community. I have led or been on the management team for several large community projects, and multiple smaller efforts.
I have stayed active in MDI, taking on numerous leadership positions: division, regional, and international. I also mentor other leaders.
I also was active in associations related to my work and became president of one of them.
I continue to be engaged with our summer retreat in Maine, which belonged to my dad's great grandparents. It was close to my dad's heart, and he put a lot of labor and energy into making it work.
I was chosen the represent my neighborhood at our old house with the city's Redevelopment Agency to plan the layout of our section of the city for the future.
I set myself up to be in a position to retire. And now I am finding new ways to contribute to my community. My dad had joined several committees after retiring. So maybe there is a tie-in there.
I actively look for ways to make a difference in the world. Perhaps in this way, however big or small, I can continue a legacy originating from a bigger-than-life man.
I appreciate the opportunity to write this down.
Looking back on it, I think my dad would be proud of me.