James Anthony Ellis
Legacy Editor
Who knew?
Who knew when my family – two sisters and a mom and dad – took a simple trip to the Fabulous Forum for a playoff hockey game in 1982, that we would be watching history?
Yes, we know some of you out there – other fans, Fox Sports West's Patrick O'Neal, and even Daryl Evans himself – may not believe all the folks who proclaim their attendance at this historic event. But it is definitely true in this case. My dad did in fact get us all tickets for the April 10, 1982 playoff game between the Edmonton Oilers and the Los Angles Kings, a game later to be known as "The Miracle on Manchester."
We always liked to say the five of us were the five at the end of the 16,005 in attendance at those Inglewood Fabulous Forum hockey games.
And on this night, the Forum was fabulous.
On that Saturday night – almost 40 years years ago – all five of us piled in my dad's Chevy Impala and made the 45-minute drive from Huntington Beach to Inglewood. As we made our way down the long stretch of Manchester from the 405 freeway, I recall being in anticipation since I couldn't actually see the Forum until traveling down this slight hill and coming right up to the arena at Prairie Street, near that Sizzler.
I recall this game and other games we attended, my dad would park our car outside the main parking lot and in one of those side businesses, where we would save some money and have easy access to get out of there after the game. Now looking back, I understand the area was not the best part of town, and now looking back I see why our mother wanted us to walk pretty briskly towards our destination.
Once inside, we were excited to be there. We got into our seats, all jazzed for a great game. Memories of past playoff ups and downs filled my head. Watching on TV in April 1976 when Butch Goring of the Kings beat the Bruins in overtime to push the series to a seventh game. Being at the Forum in person in April 1979 to watch as the New York Rangers' Phil Esposito scored in overtime to kick the Kings out of the playoffs, back when the teams played a best-of-three series. So with all these ups and downs, we had our hopes up, even though the Kings were playing the mighty Edmonton Oilers, a team that had taken first place in the (remember this) Smythe Division … by a long shot.
We had the "Triple Crown Line."
We had Marcel Dionne and the Triple Crown Line (with Charlie Simmer and Dave Taylor), but they had Wayne Gretzky, this young superstar who Dionne said would win the Art Ross Trophy for the next decade to come.
No worries. We weren't there to praise Gretzky but to bury him. As an 18-year-old youngin', I still believed. And this was when the hashtag #believe was just a gleam in Kings' mascot Bailey's father's eyes.
But then it happened. Oh my god, it was a slow death. The air was completely taken out of that Forum. Slowly, the Oilers started scoring. My folks were pretty stoic around this, but my sisters and I were pretty dismayed. It was one of those games where each goal by the opposing team made the room more and more quiet and downtrodden. I recall sitting next to my older sister and noting how with each goal the family sitting right in front of us would be cheering on their team. A smattering of Oilers fans had infiltrated "the house that Jack built," and three of them were sitting right in front of us, waiving their Oilers banners.
Every time a goal was scored, the banners came out. It was agitating. I can still see the smugness in their celebration. Slow flags waiving.
After the first period, it looked grim. After the second period, being down 5-0, it seemed insurmountable. My sister Kathy recalled that the Kings owner Jerry Buss had left the game early. His companion Cathy Lee Crosby, from the TV Show "That's Incredible," joined him in departure. We watched as they walked out. In those days they sat at the glass and then had to walk up and out. I can still picture them as they went up the aisle, not to be seen again.
After the second period, I recall going down into the snack area to see my two friends from community college who were also attending the game: sisters Karen and Claudia Grieder. They were pretty melancholy after the second. I told them we could reconvene after the third to say goodbye.
Then it happened. The third period. You wanted to believe, but then again you didn't want to get your hopes up too much. With each Kings goal, there was a different reaction: relief … then revenge … then glee … and then – could it be – hope. I nudged my older sister and pointed out the family sitting in front of us had silently put their banners away. There was an eerie sort of dread in them, as if they were holding their breath.
Could it be? Could the Kings, such huge underdogs coming into the series, actually come back from five goals to tie this game up before the end of regulation? After the fourth goal, you could cut the energy in the arena with a knife. But it was ecstatic, high energy, filled with hope and intensity. Could it be? With seconds to go in regulation, and the puck bounding around in the corner in the Oilers' zone, I almost passed out from not breathing. It was hard to see what was actually happening as everyone was standing up. My eyes darted back and forth between the clock, easily in view, and the sea of hockey players fighting for the puck, hard to see. Not even seeing the goal, but seeing the red light go on and the Kings players starting to celebrate, I knew it was evident. The Kings had scored to tie the score with mere seconds to go.
Mayhem.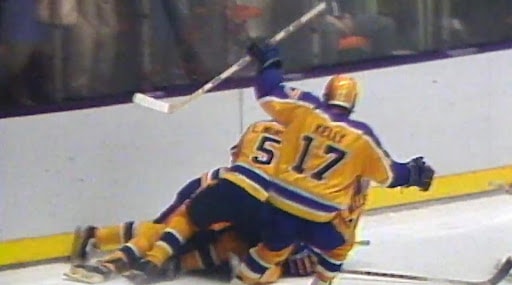 This was exhilaration. This was loud. Even my stoic parents lit up. The opponent fans were now sitting on their banners.
After the third period, I was a raving lunatic. I ran down to the snack area to see Claudia and Karen expecting them to be just as elated. But being pretty low-key characters themselves, they had the same glum look on their faces. Were they in denial to what was happening, or was I simply flying way higher than they?
There is nothing like this sort of excitement in any other sport. There is nothing like hockey, a sport that allows for that split-second thrill of the win. Not found in the homerun. Not found in the touchdown. Not even the soccer goal, with the ball crossing the goal line in a speed much slower than a slapshot. Immediately – in a fraction of an instant – you are spared the heartbreak of defeat and given the thrill of a victory!
The OT winner.
And that's what happened in overtime … as Daryl Evans' slapshot sent the Kings into the win column, the players into a celebratory slide into the corner and the Forum into a rockin' frenzy. I was beyond happy, the kind of giddy happy that has you talking all the way home in the car, even repeating yourself just because you like the story you just saw unfold before you.
Of course, there will be those who won't believe me when I say my family and I were the five of the 16,005 there on that Saturday evening. Patrick O'Neal on Twitter gave a test for us Tweeters to prove we were actually at the Miracle on Manchester. When I saw Daryl Evans at the 2015 Kings 5k fundraiser, I let him know "Hey I was there" to which he sighed and gave a bit of an eye-roll. I can understand that if he's heard that 1,000 times before. Though of course if you do the math, he could have heard it 16,000 times, and these folks could still be telling the truth.
But in the end, I know I was there. And my family knows. We got to be there. We got to believe: in the Kings, in David over Goliath, and in a miracle that could only happen on April 10, 1982 on a street called Manchester.
What do you know.